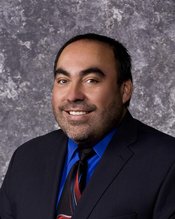 Dr. Anthony Rosilez
Welcome to the 2012-2013 School Year...
Welcome to the 2012-2013 school year! Students excited to learn, parents happy for school to be back in session, teachers reenergized, and duty supervisors and principals escorting students to classrooms – just a few of the signs of a new year! It takes a lot for a school year to begin. It requires a team effort of students, families, employees, and the community. Here in Romoland School District, our team demonstrates this effort well. I want to say THANK YOU to our entire community!
Our primary District goal is to provide students a rigorous academic program. We continue to see improvement in student achievement in many areas. Nonetheless, there are many students for whom we must strive to do better. This year, in addition to our full-day kindergarten and Response to Intervention programs, we will provide increased elementary teacher collaboration time and better opportunities for common planning at the middle school in order to better meet student needs. We will also have dedicated physical education, art, and music instruction at the elementary schools, and more robust music and intervention programs at the middle school.
I appreciate the commitment of all staff to serve students during our continued financial challenges. Preparation for the future also continues. Construction will move at a rapid pace this year to build a seventh-eighth grade middle school opening next fall. Community Facilities District bond proceeds and other capital funds will be used to build the school in order to avoid further impact on our general fund. We have much to be proud of in Romoland, and it is greatly due to the work of our team! Welcome to 2012-2013!!!
Sincerely,
Anthony Rosilez, Ph.D., J.D.
Superintendent